Oleg Koretsky
Gallery for PhotoPrism
The official web application of the PhotoPrism open-source photo library, despite being mobile‑friendly and well optimized, can't be integrated into the phone OS and, no matter what, feels like a site in a browser rather than a mobile app. Me and my wife started using PhotoPrism as a replacement for Google Photos, and we really missed the convenient mobile gallery experience for it. Hence, I decided to make an own native Android app to solve the problem.
As I published the first version, it turned out to be liked by many other PhotoPrism users, which inspired me to further improve the gallery.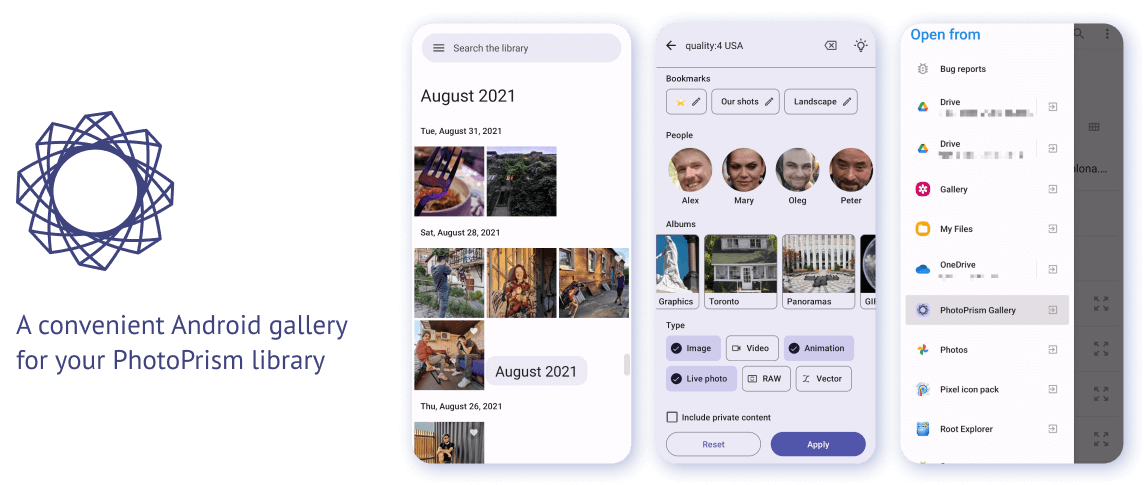 PhotoPrism Gallery does not support all the official web app functionality, but nevertheless has plenty of useful features:
Sending photos or videos to Gmail, Telegram or any other app
Grouping the content by days and months
Chronological scroll bar that lets you quickly jump to a specific month
Configurable search
Search bookmarks that let you save search configurations and apply them later
Enhanced live photo viewer, looks best with Samsung and Apple shots
Endless session without the need to re-enter the password
Connection to both private and public libraries
Support of mTLS (mutual TLS) and HTTP basic authentication
TV compatibility to easily browse your library with a remote-control (Search is only available with a mouse for now. How to install)
The gallery is confirmed to work with PhotoPrism versions from November 28, 2023 down to October 9, 2021.
Get on F-Droid
Get on Google Play
Project on GitHub
If you enjoy the gallery and want to support the project, you can make a donation with your preferred payment method.